If ya haven't heard, Doom Cycle has teamed up with the awesome folks at Show Class Magazine to interview their cover artist for each issue. It's somethin' I'm really stoked about, which shouldn't come as a surprise to any of you who've been hangin' around this joint. I've been a a big fan of the mag for years now, so having this opportunity to work with Tim and the gang has been a blast.
Hey, and welcome to all those who just couldn't get enough of artist Matt Wilkins from issue 27! Space is tight in a physical magazine, so the artist interviews there are often presented in a condensed form. Here on Doom Cycle, we don't face those same restrictions. So if you're interested in hearin' more, ya found the right place. Did I mention the big fuckin' pictures too? Gotcha covered!
So here's my interview with the awesome Matt Wilkins!

Hey Matt! So at what point in your life did you develop an interest in art?
For as long as I can remember I've had some sort of interest in art. It was always the subject at school I was into the most, probably down to having quite a creative family and mostly the influence of my grandfather. He was a really talented pen and ink artist with an amazing eye for detail and I remember sitting and sketching with him at a young age.
Who were some of your favorite artists growing up?
I'm only 19 so I feel like I'm still growing up in terms of finding out more about the art world, however I've been skateboarding for a while. Deck graphics always caught my eye and played at big role in wanting to do more art myself. Especially the legendary Santa Cruz artist Jim Phillips.
Are there any artists workin' today that blow your mind? 
There's so many artists that blow my mind on a daily basis with most of them being on instagram, hard to name a few but I'd have to say I'm really diggin the work of

Gorgeous George

,

Harley&J

,

Maarten Donders

,

Rob Gnista

,

Alex Matus

,

Simon Berndt

,

Alan Forbes

,

David Paul Seymour

,

Sami Graystone

,

Jesse Schaller

,

Branca Studio

and

Donny Gillies

.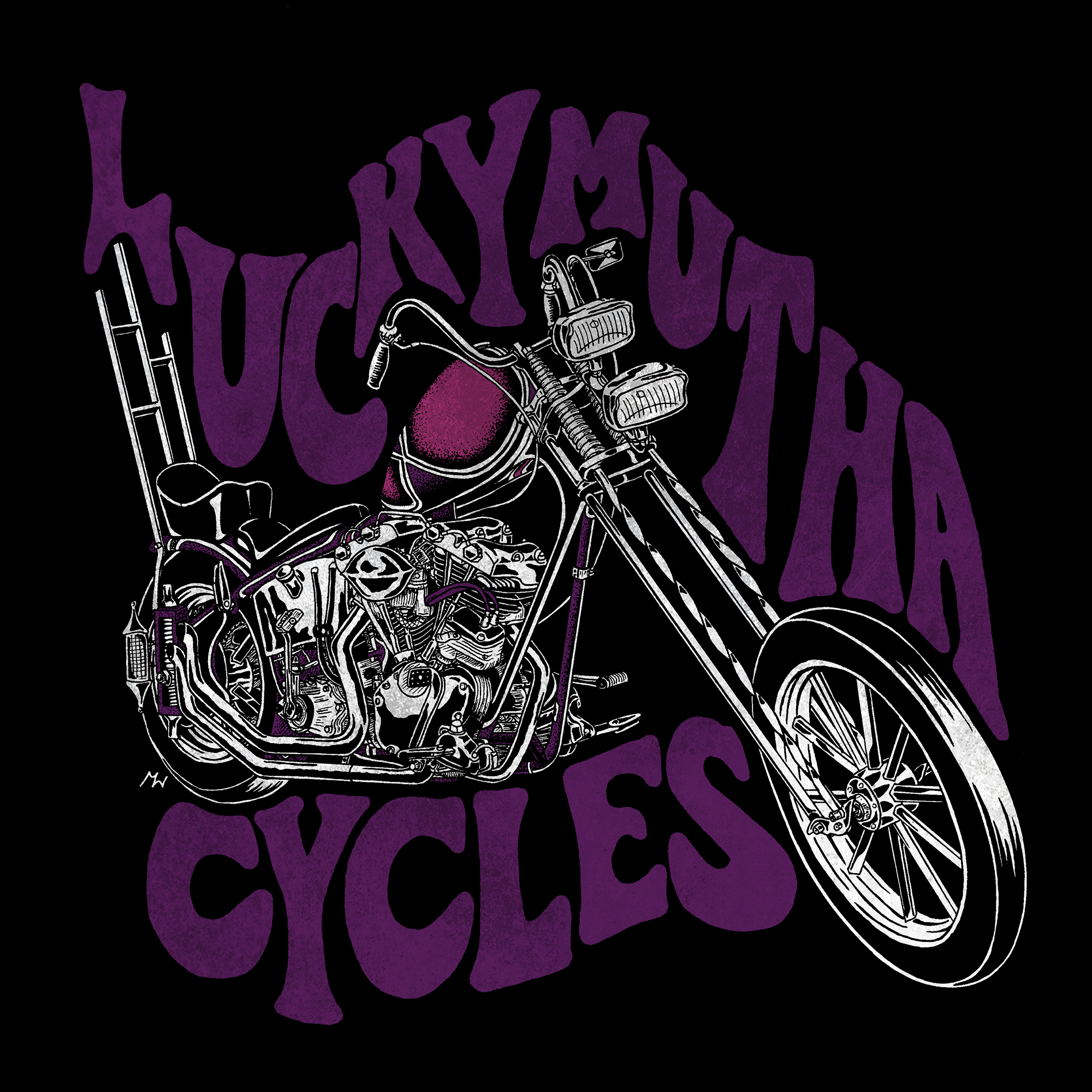 A lot of your work has been for rad bands like The Picture Books, Slow Season, and Kadavar. How did you get involved in the music scene?
It pretty much started with posting up some sketches on Instagram, then I did some gig posters for a band that are close friends of mine. One thing led to another and I'm now doing art for bands across the world. It's really crazy to me as I am a huge fan of rock music, so being asked to do art for bands that I've genuinely been a big fan of is such a privilege.
So who are some of the bands that you're diggin' these days, and who would ya love to do some work for?
There are a load of new bands that I'm into these days, such as Sweat Lodge, Ruby The Hatchet, The Shrine, All Them Witches, Kadavar, Fuzz, Sacri Monti, Mondo Drag, Electric Citizen, The Heavy Eyes, Le Betre, Horisont, Siena Root and again that list could go on and on, I've always got records spinning.

Some bands I'd love to work for apart from Black Sabbath, of course, because that won't happen… has got to be Graveyard, Pentagram, Earthless, Radio Moscow, Windhand, The Black Angels, Witch, Uncle Acid and the Deadbeats, Sleep, Blood Ceremony, Orchid and Dead Meadow.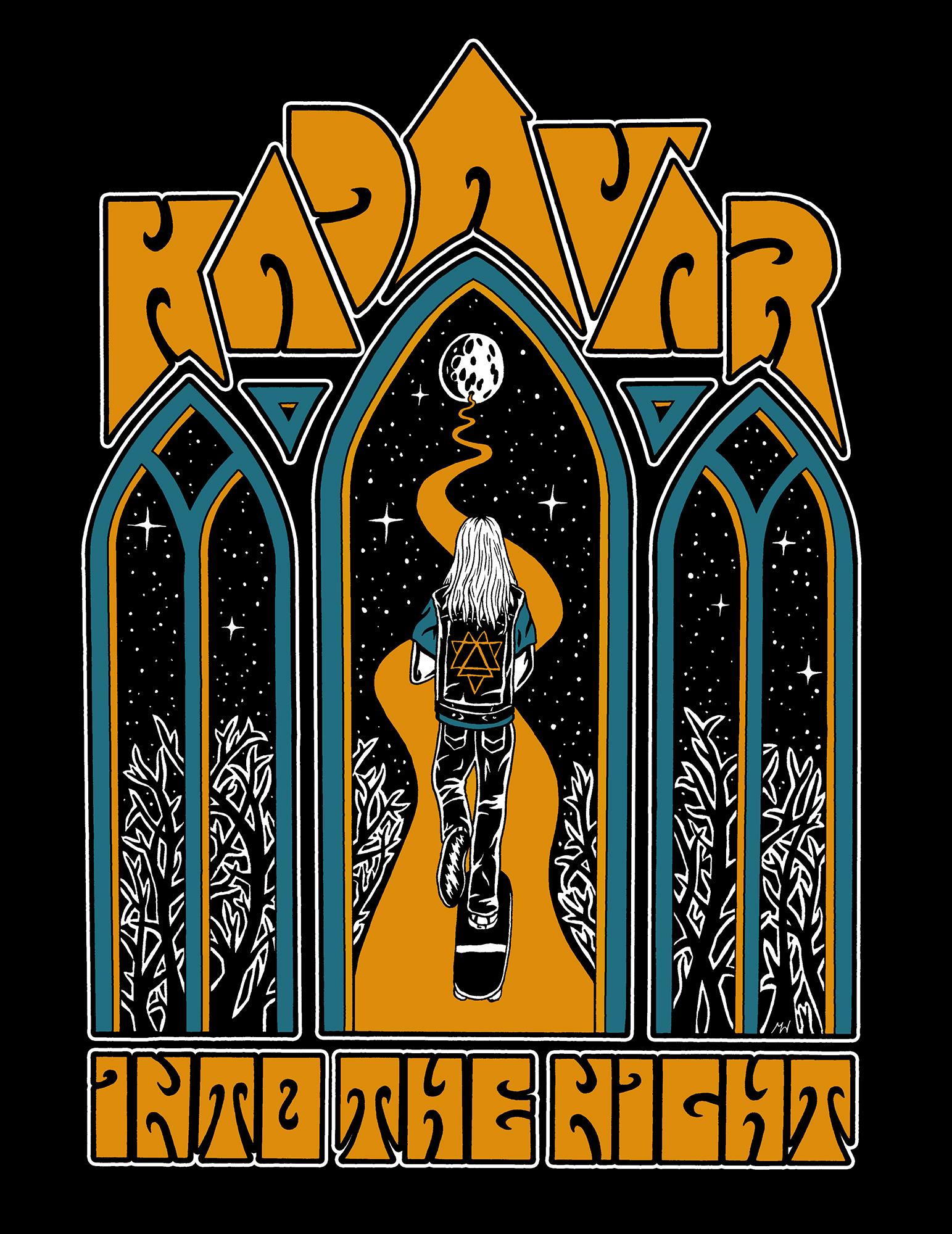 In addition to doing so much work for bands, you've also done quite a lot of stuff for the chopper scene. Folks like Heavy Clothing, Triple Six Crew Death Co., Lucky Mutha Cycles, and myself have all hit ya up for designs. When did your interest in choppers begin?
I've loved the American classic car and motorcycle culture for ages, especially those built in the '70s, so its really cool to do art for brands in that scene. But living in London they're rare to see, although I've been going to classic car shows since I was really young with my dad.
Are there any cool bikes or muscle cars out there that you'd love to take home with ya?
Well, in an ideal world, I'd have a few vehicles parked on the driveway, first off with an old Chevy van fully decked out with a 70's style interior and custom airbrushed paint job. Also I'd gladly take a '77-'78 Pontiac Trans Am Firebird home with me. Then how about that insane chopper that JP Rodman built for this years Born Free, that thing rules!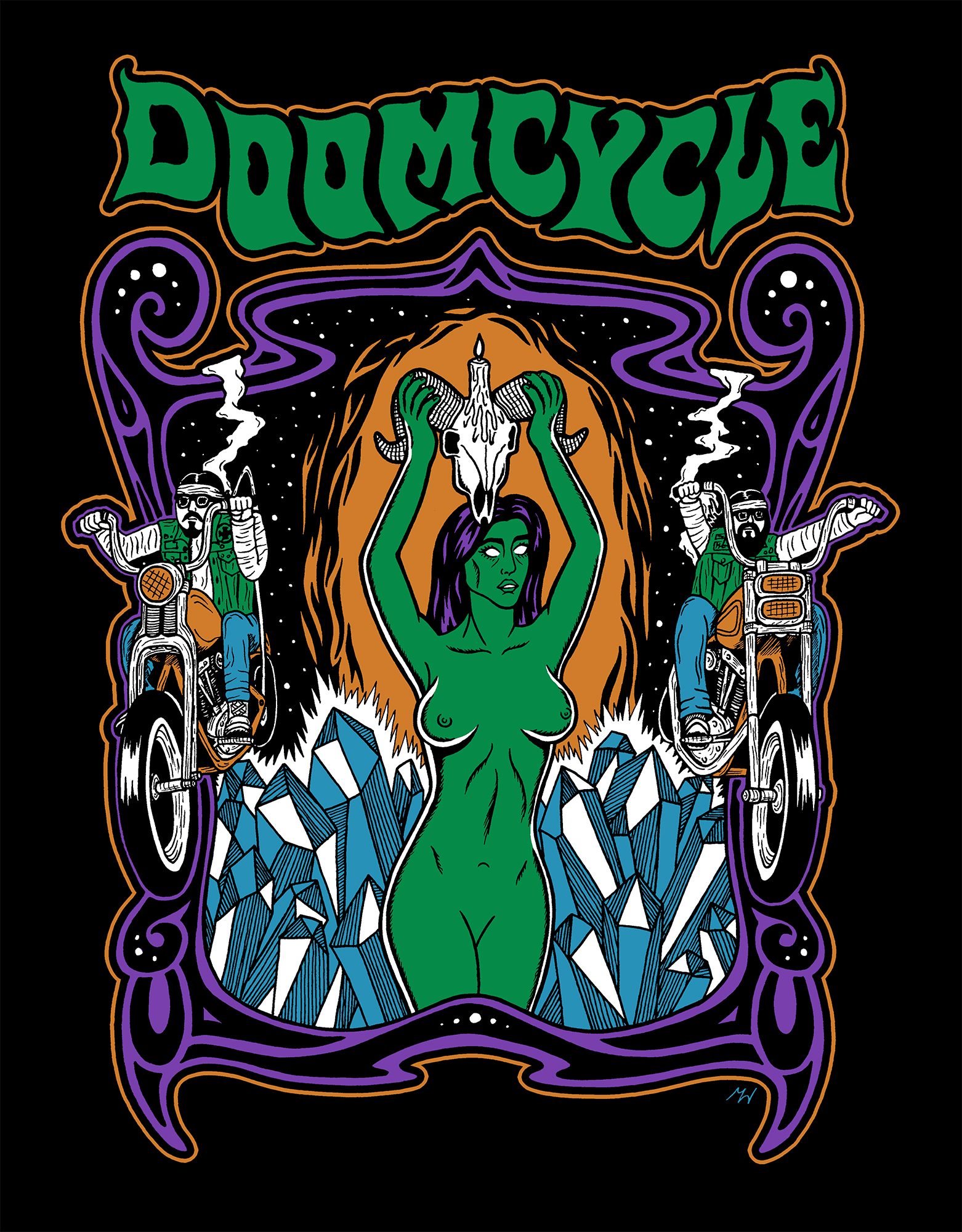 I was stoked to see you finally put up a web site featuring your work. What kinds of stuff do you 
have planned for your shop?
Thanks. I never imagined that I'd get to the point where I'd make my own website for my artwork. In the future I plan to sell screen printed gig posters that I've produced, as well as design some original artwork to put out some limited edition shirt designs and patches. Even considering building a screen printing set up in my workshop to print the shirts and posters myself.
So whatcha workin' on next? Any cool projects we should keep our eyes peeled for?
I've got more shirts and gig posters to design for bands, including Mothership, so that should be pretty rad. Also a skateboard deck for Frantic Skateboards out of Belgium. So things to look out for would probably be some of the album covers I've worked on recently, some I can't announce, but one is for the heavy rock band Them Evils, which has already been released. All the albums will be getting pressed on vinyl, so that's a treat for a collector like myself. As well as a guitar fuzz pedal that I collaborated with Red Sun FX on, really exited about that, they're all handmade and limited edition.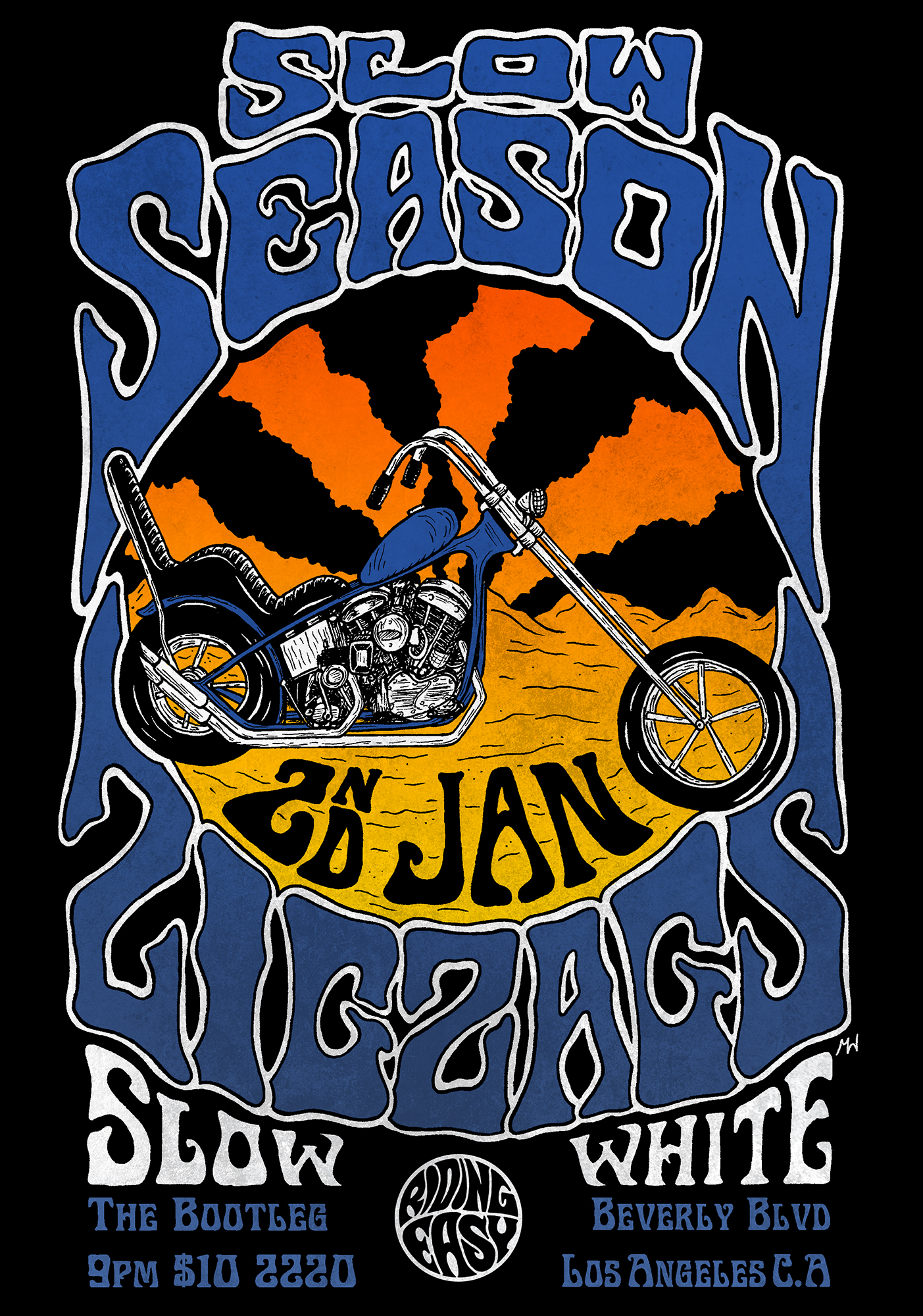 Now for the question I ask everybody: If you could travel through time, where would you go?
I'm sure I won't be the first to say this but, it would have to be California in the late '60s-'70s, so I can experience what inspires me the most about that era. The music scene, skating backyard pools and the car/chopper culture. I've been told that I was born in the wrong era many times.
Thanks a bunch for your time, Matt, and congrats on landing this issue's cover of Show Class Magazine! So awesome!
It's such an honor to have my artwork on the cover of the best chopper mag out. Thanks a lot to all the guys at Show Class and thanks for the interview, Tim!