Ohio's infamous Triple Six Crew Death Co. just debuted a new web site along with some killer new gear. The new "Lifestyles" section of the site is jam packed with stellar photos by the one and only Mikey Arnold, and when you want to know what the hell is going on in the mid-west, make "Death and Destruction" your first destination.
The Triple Six shop is also stacked high with new stuff. Their latest design "Jesus Never Warned Me About Titties" was created by the amazing Horsebites (aka Richird Minino), who joins a growing list of some of the raddest artists out there who all happen to be producing work for Triple Six. "Jesus… Titties" is currently available on a t-shirt and tank top, so reach out and grab a pair today.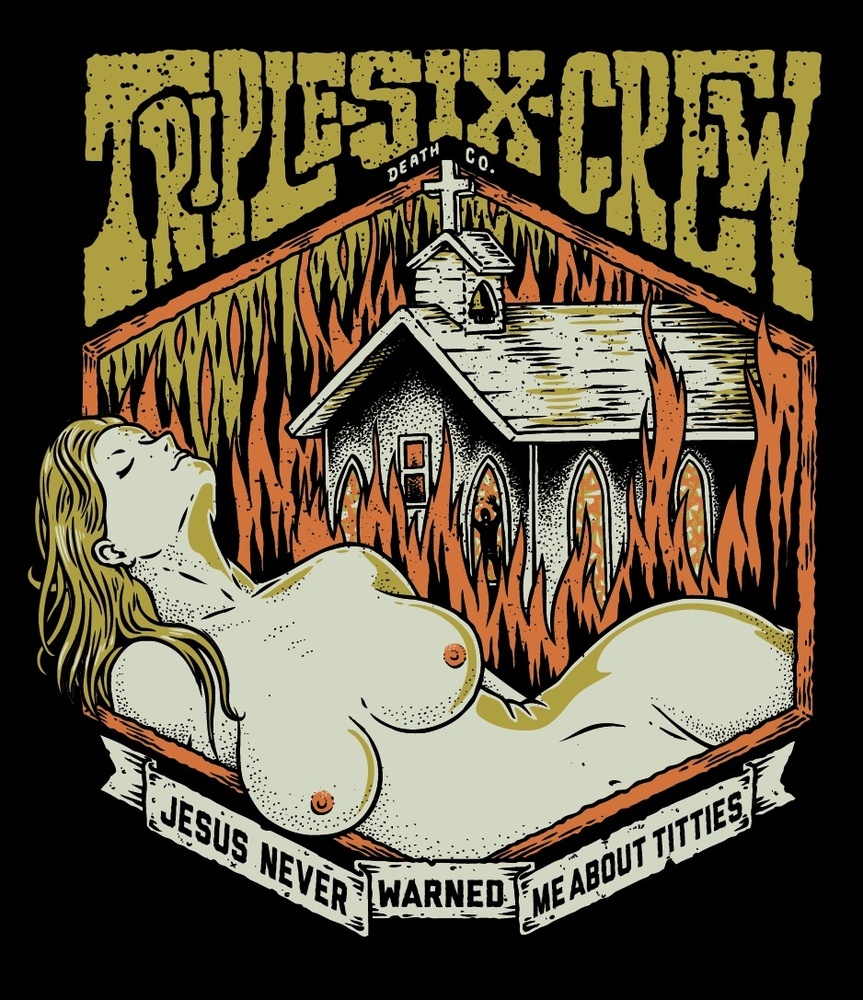 Also up for grabs is "Slippery When Wet" by the awesome Gorgeous George. The t-shirt has both a pocket print and a full back, so you know the ladies will be checking you out whether you're coming or going.
Triple Six Crew Death Co. is also running a wicked sale right now where just about everything in the shop is $16.66 (haha!). So if you've been waiting to pull the trigger on some rad shirts like Burney's "She Rides…", Phil Guy's "Chief Charlie" or "Pussy Snatcher", Haley Zontini's "Save The Bush", or Sketchy Tank's "Vannin' With The Devil"… now's a great fucking time to save yourself some cash!