Doom Cycle has teamed up with the awesome folks at Show Class Magazine to interview their cover artist for each issue. It's somethin' I'm really stoked about, which shouldn't come as a surprise to any of you who've been hangin' around this joint. I've been a a big fan of the mag for years now, so having this opportunity to work with Tim and the gang means a lot. In addition to speakin' with their cover artists, I've been puttin' together some crazy Choptoons for their channel on Motornation.tv, one of which is up there now. This is gonna be a crazy trip – come along for the ride!
Hey, and welcome to all those who just couldn't get enough of artist Eterno from issue 24! If you're still waitin' on a copy to hit your mailbox, let me fill ya in: space is tight in a physical magazine, so the artist interviews there are presented in a condensed form. Here on Doom Cycle, we don't face those same restrictions, so ya end up gettin' the whole thing. Did I mention the big fuckin' pictures too? Gotcha covered. For fans of the mag like me, this is gonna be awesome!
So hear ya go… the full interview with the man, ETERNO!
When you were growing up in Spain, you developed an early interest in drawing. Can you remember what it was about art that grabbed your attention?
I've been working hard since I'm small.  Love nature, bikes, tattoos, and the intensity of life in all aspects.  I'm living my life to the limit. Always been working with my hands creating unusual stuff. My job, my passion is tattooing. Always looking for different and original stuff that inspires me.

Comics, arcade games, stamps/sticker collections, skate culture, graffiti culture, and underground urban art. In my opinion, in the '90s there was a revolution of visual impact everywhere. I was really influenced with Dragon Ball Z, Masters of the Universe, Scooby Doo, and many others.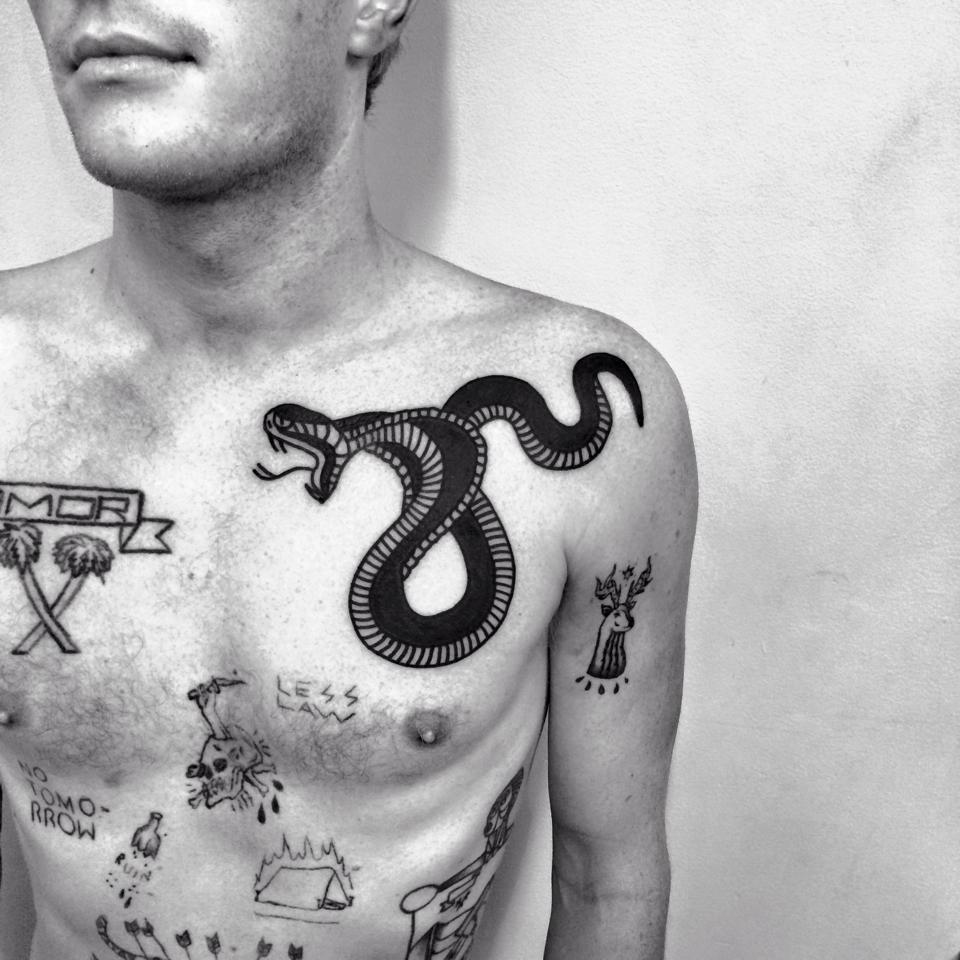 Who were some of your favorite artists growing up? Was there anyone in particular that just blew you away, or inspired you to work harder?
All those artists who had to do with all that I liked by then. They created a visual impact on me, but no one in particular. The person who has inspired me to work harder, stronger, is my father. I saw and lived his life of hard work. My conclusion of what I learned of it is: Work hard, but never renounce your own path. Fight against conformism, and obtain it yourself.
I understand that you developed an interest in tattooing at an early age?
Always wanted to do at least one tattoo in my life. It was an experience of life I wanted to live. I got to draw again a few years ago while working with other stuff. I started to develop my own style, and it just happened. I was filling my time with my passion.
Your work has you living a nomadic existence, traveling from one place to another, and rarely being at home. Is this lifestyle a choice you've made, or is it one that comes with your profession?
It's been my choice. I could work at a studio with no need to travel, but I saw the chance to travel, freedom to choose where and when I want to go, it contributes on my evolution as a person. Professionally, it's a challenge that pushes me to grow, to offer the best of myself to my profession, to my life. I like to live intensely.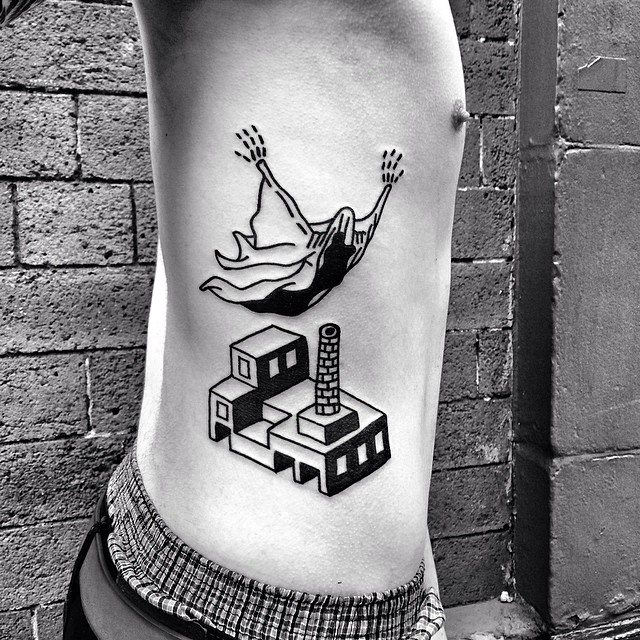 Being on the road so much, you must have found yourself in the middle of some crazy situations. Can you recall an experience from your years on the road that still feels like it only happened yesterday?
There has been many weird, funny, odd situations, but I remember one that made a difference.

Was my last night in Leeds, finished work, was tired, but wanted to go out a while. After a whole week of loads of people, and work I found myself on the streets alone, met these guys and joined them to go to a party. On the way I crossed this homeless man on the street with a dog, it was a really cold night. I followed them to the entrance of this old church where a long cue with plenty of young people were waiting to get in. In the middle of that picture, I felt something pulling me to "Shoen" with his dog. I got closer to him and ended up sharing 3 hours on a freezing night sitting on the street. He talked about his story, how life can change so fast, and draw you to a situation like that.

It was a real moment. Life/people is being trapped in emptiness, sometimes hard to find real stuff, real people, real situations. One of the reasons why I try to put these values or meanings in my work.
In addition to art, you also have a passion for motorcycles. When did you get into bikes, and how often do you get to ride?
I feel a natural attraction for bikes since I was a kid. Every time I can I'm on my bike. Now I'm waiting for my last project to be ready, its been a few months without riding, and I can't wait to get on the road again.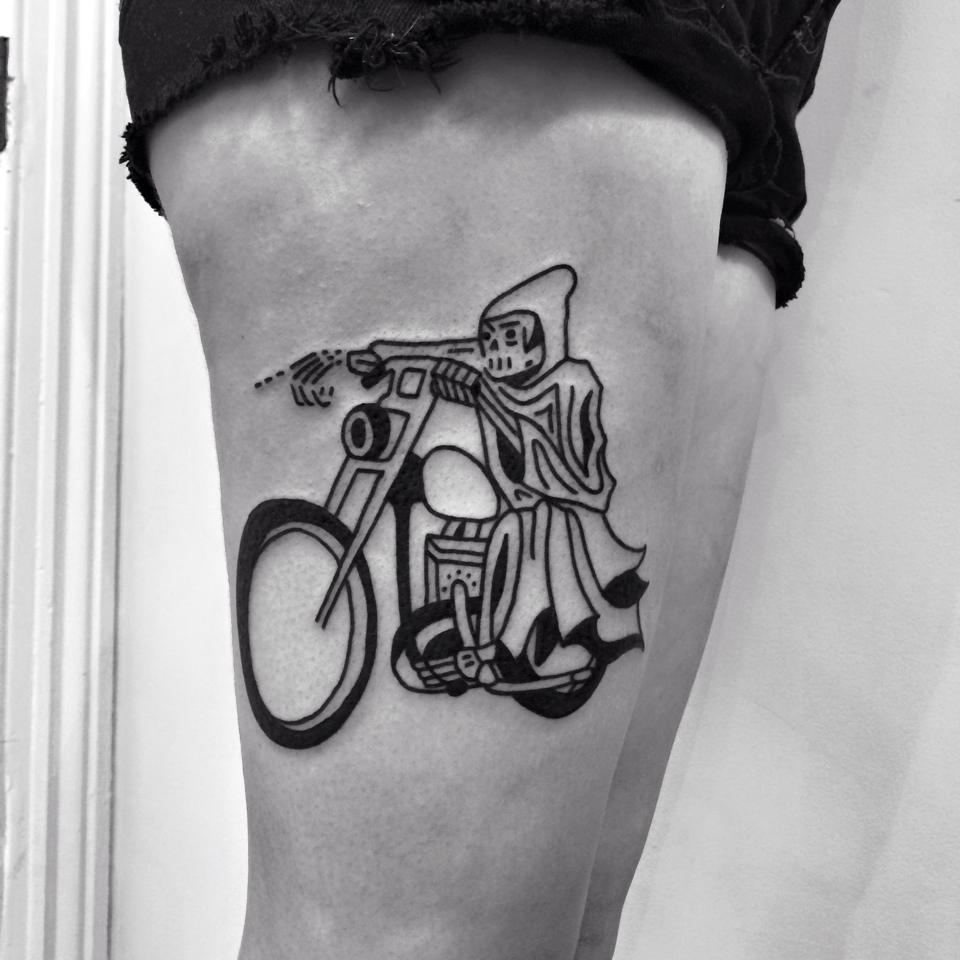 You've announced that there's a new store coming soon to your site etterno.com. What sort of work will you be selling in your shop?
I will sell all my production prints, collaborations, and hand made stuff. I need to stop at some point with my travelling for a while so I can put all my time and energy into all these future projects that are in standby at this moment due the lack of time.
Do you have some dates scheduled after April where folks can look you up for some work?
I have all of 2015 already planned with trips all around the world, mostly in Europe. I hope to visit America soon, maybe at the end of the year.
If you could travel through time, where would you go?
Too many choices to do. Maybe present is my place at the moment. Thank you for offering me such a good question.
Thanks a ton, Eterno, for finding the time to speak with us about your work. Any last words?
Thanks to Sabina, she is an important part of all this. Also thanks to Carlos and the team of LTW Tattoo studio in Barcelona, and many thanks to all the studios and people who I've met on my travels.

Instragram: Eterno8

Facebook: Etterno Tattoo Nomad

Website: Etterno